Years have passed by without any major happening in the web hosting industry. One of the major issues for websites in last 8-10 years has always been speed and security. ScalaHosting is there to help the website owners letting them sleep well, knowing their data is secure and their website loads quickly 24×7 with no risk of getting harmed by other website on their server. Let's learn more about it.

About SPanel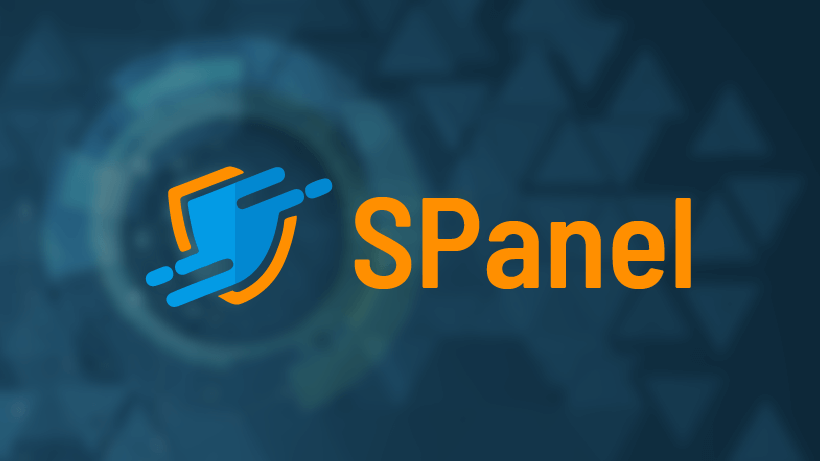 SPanel is an all-in-one hosting platform to manage cloud VPS services. IT includes just everything a website owner knows to grow their business. It's a quick and easy replacement for cPanel that not only saves you the cPanel license cost but also adds beneficial features. It's not just a control panel, but a powerful all-in-one web hosting solution. It makes shared web hosting unworthy as you get a fully managed SPanel Cloud VPS for just a little extra per month eliminating all software limitations and adding following benefits:
Powerful Security: Most of us are aware of disadvantages of shared web hosting. It's not secure, no matter what security system you install on the shared server. A single hacked website can cause troubles to others as well. SPanel comes with SShield that monitors all websites on the server in real-time. In case of a hack, SShield takes necessary actions, generates report and send it to the website owner to take necessary actions.
Faster Websites: If you love fast-loading websites, this hosting is for you. Your website will always load fast. Other sites on the same server will not slow you down.
100% Email Delivery: As you have dedicated mail IP that no one else will use, your emails never get blacklisted.
SPanel User Interface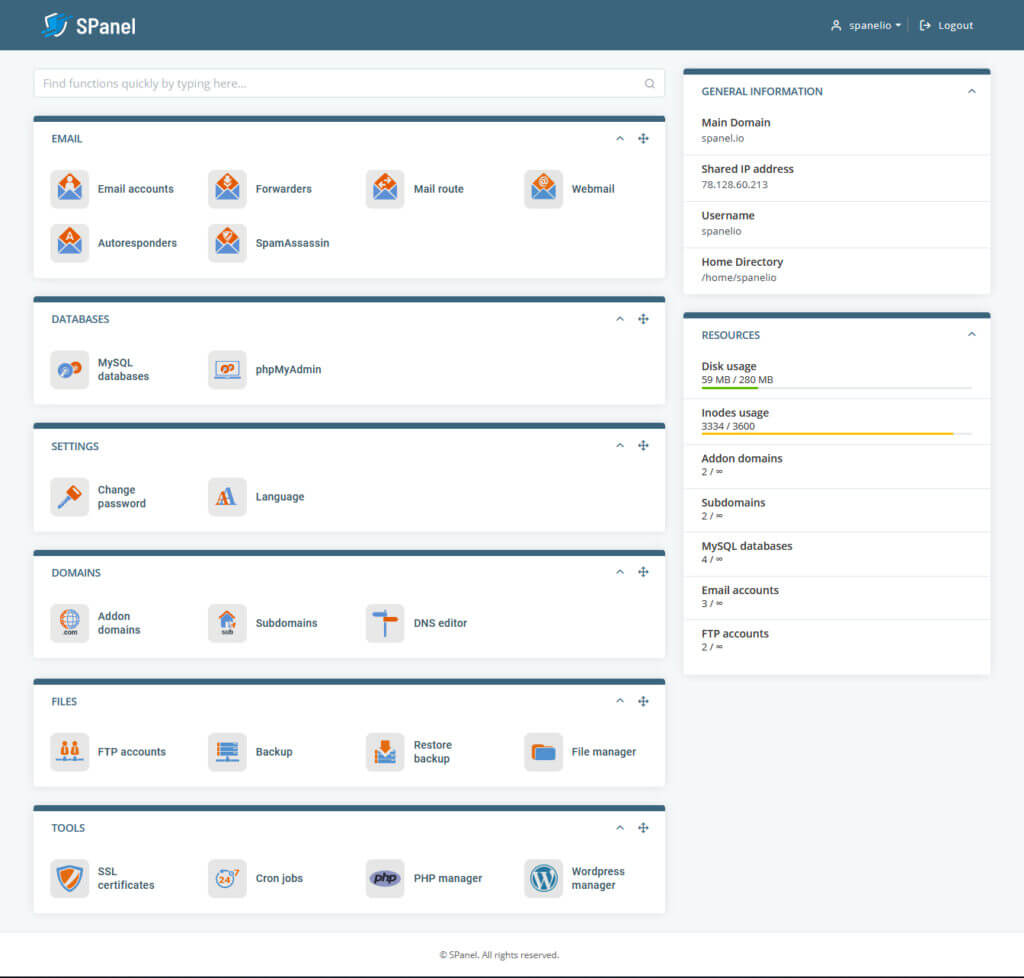 The latest version of SPanel provides you direct access to control panel to the customers allowing them to manage their hosting accounts. Adding/removing domains, emails, databases, subdomains, editing DNS zones, restoring backups, installing SSL certificates, editing files via file manager, changing PHP version of your sure or managing your WP site through SWordpress Manager are some of the stunning features.
SPanel Admin Interface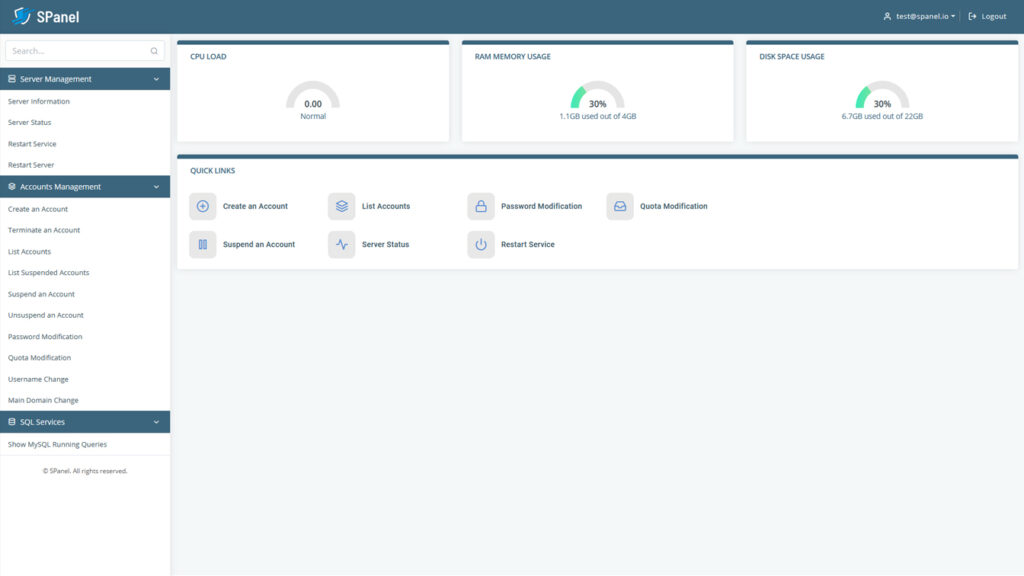 It offers two areas for management – one for the end user managing separate accounts/websites and other one for server management. You can easily create, terminate and manage accounts, change their passwords, disk and inodes quota, suspend or unsuspend account, modify main domain name or username and perform many other functions with ease.
You can even see the information about server such as the current CPU/RAM/Disk utilization, info about each service running on the server and the option to restart them. Currently running SQL queries can also be monitored.
H3: Featuring OpenLiteSpeed
The latest version of SPanel is better than before. It now supports OpenLiteSpeed which is the fastest web server in the world to serve both dynamic and static content. Your website will load with a blink of an eye. One of the best things about OpenLiteSpeed is that it supports all caching plugins in paid version of the web server called LiteSpeed Enterprise.
These caching plugins are crafted to work specifically with LiteSpeed server environment. This delivers better results as compared to any other caching plugins.
Better Security and Experience
All its features are designed keeping the highest security and better experience in mind. Each SPanel VPS is custom tuned for ultimate performance. Everything is configured individually depending upon the specifications of the VPS and the amount of traffic to serve. The website owner can take full advantage of SShield real-time protection security system that blocks 99.998% of web attacks.
Managed VPS Now Becomes Affordable
SPanel is an all-in-one webhosting platform that has made managed VPS service affordable. It can replace shared hosting if you are willing to spend a little more for security and speed. It offers highest security, dedicated IP address, faster loading websites, better rankings on search engine and much more.
The Bottom Line
SPanel is an all-in-one platform that is one of the best available alternatives of cPanel with additional features. If you are looking to migrate from shared hosting and give VPS cloud hosting a try, it's the time now. Start your journey with SPanel.