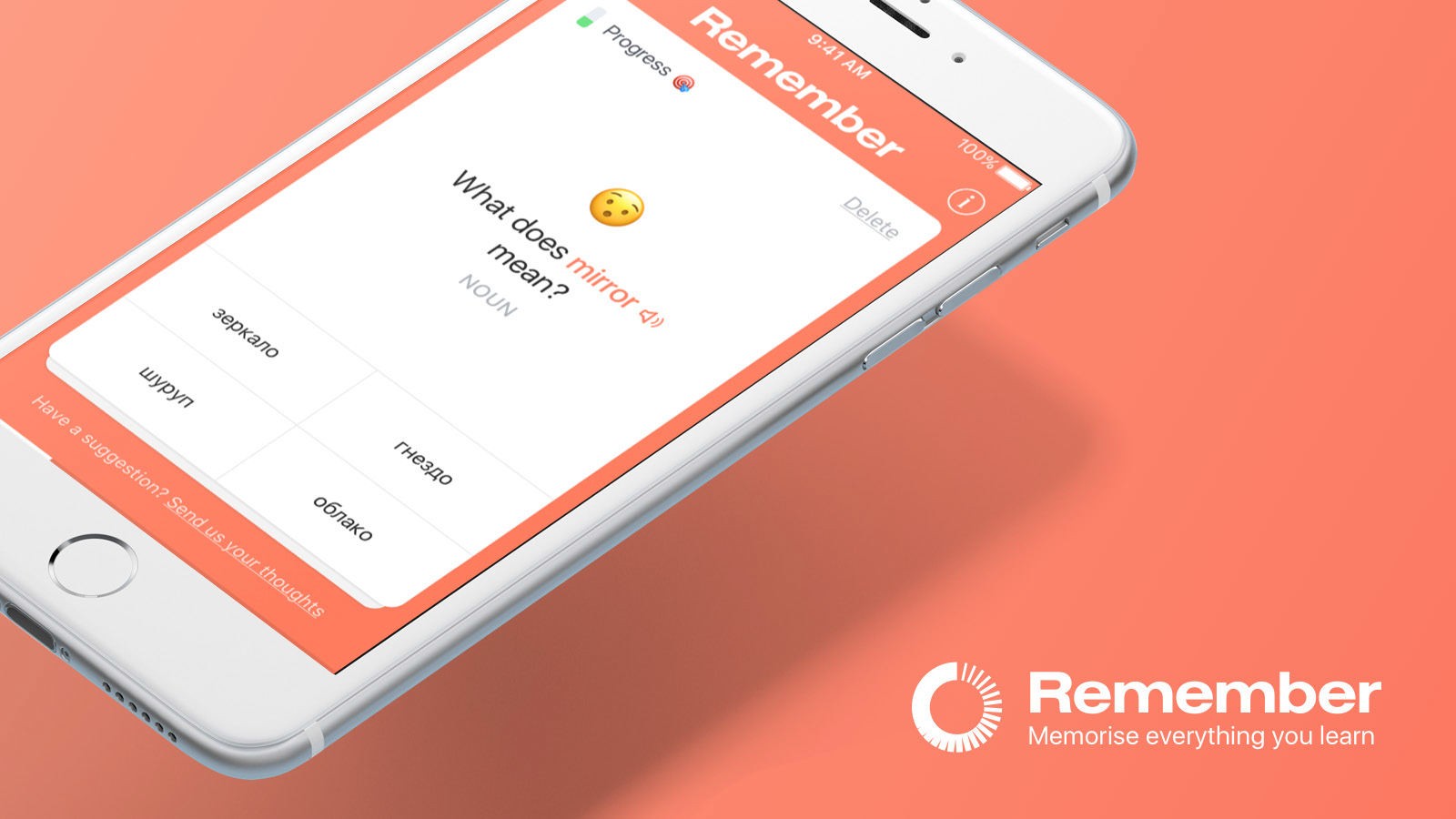 Learning new language is always a difficult task. It is very difficult to switch from our native or base language to a new language. Learning new words and their meaning and spelling always leads to difficulties. But now there is no need to worry as in this post we are going to discuss about a new app called Remember which can make the process of learning new language very easy. Before moving further let us explore more about it in the below part of the post.
Exploring Remember App
As it is discussed earlier Remember is an app which can help in memorizing new. Through it users can easily translate one word to another and can easily learn words through different practice test or we can say games. If we talk about the support, it is currently available for iOS platform only.
Highlights of Remember App
1. 23 Language Pairs: Users can learn words from different languages.
2. Three types of training: 3 types of games are included in the app so that users can easily learn and practice new words.
3. 5 Learning Grades: 5 types of grades are awarded so that users can track down their progress.
How to use Remember App?
In this part of the post, we will show you how you can use Remember app. We will give a short step by step tutorial in this section of the post.
1. First of all, you have to select your base language and a new language. You can choose from 23 language pairs.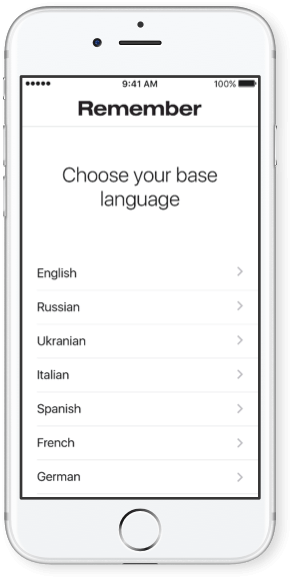 2. After that, you have to write the word. You can right in your base language or a new language. Have a look at below snap for more idea about it.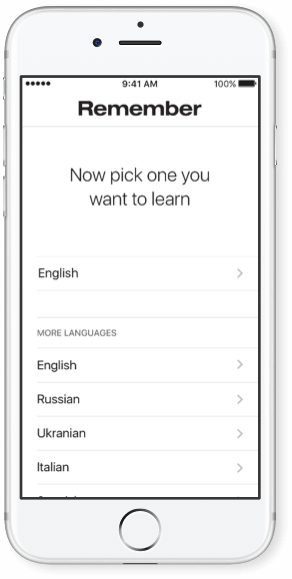 3. As you can see, you can check the pronunciation of that word.
4. After that, by clicking on Learn option, you will get the following screen. As you all can see we have entered three words and all these words are in learning phase. It means according to the algorithm used in the app we have learned 0 words.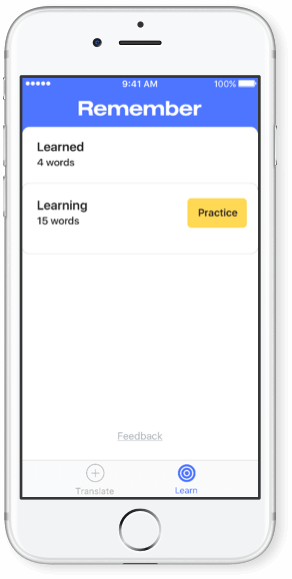 5. You can play a practice games and can move up to next level which close to learn phase of the words.
6. Three games are there like as shown below.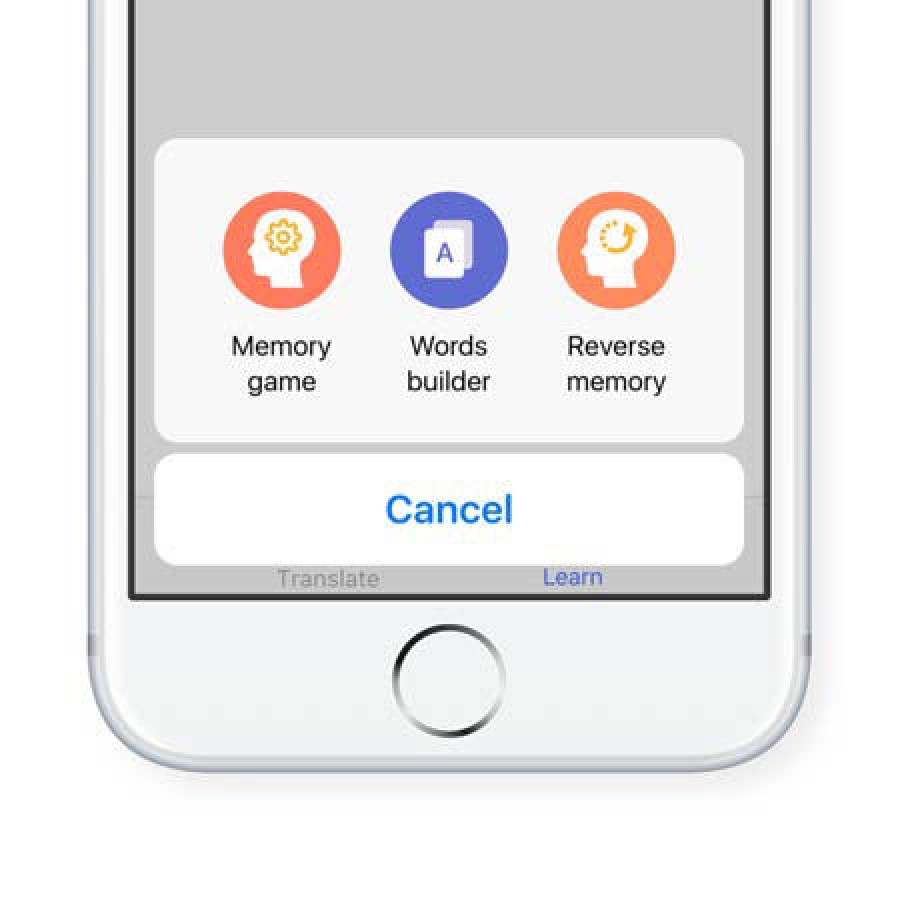 7. In Memory game, you have to give the answers to the questions. Have a look at below snap for more idea. With the end of each game, you can give another test.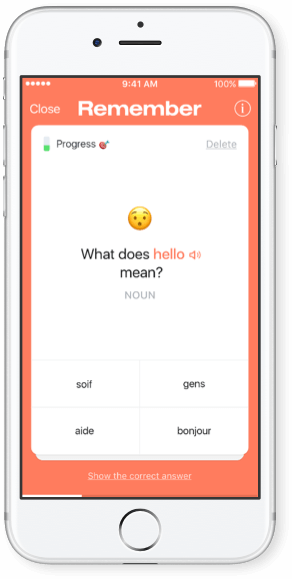 8. In words builder game you have to build correct word from given option.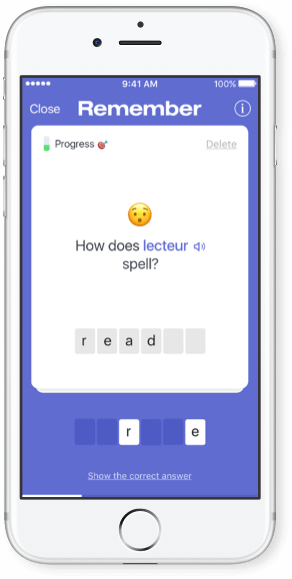 9. In Reverse memory again you have to give the answer but in a reverse way like as shown below.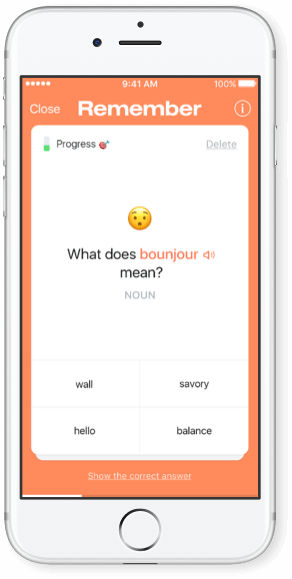 10. Spending time on this app regularly can help in learning new words. You all can take the example for us only we learn three new French words while testing it.
Over to you
As you all can see Remember app is very easy to use and it is very effective too. Now let us highlight some pros and cons which we noticed while using it. Read below points carefully and take action accordingly.
Pros:
List of pros is too huge, and we will highlight some of these due to words limit.
1. It is a free app which doesn't have any types of ads or expensive in-app purchase.
2. It is very easy to use it as the interface of the app is very good.
3. Three different practice games are included which are very helpful in learning new words.
4. Users can, not only translate but they can also learn the pronunciation of the words.
Cons:
There are some cons too, have a look.
1. It is only available for iOS based devices. The Android and Windows phone are completely neglected.
You can follow developer/application updates from these social pages
As you can see that number of pros are too high and because of this Remember app is recommended from our side. Get it once and start learning new words. You can learn 120 new words every month. Try it and share your experience with us.