We recommend you to take a look at NolimitVPN mainly because this VPN provider is really focused on anonymity and security but also because this startup has participated to the Kaspersky Security Startup Challenge 2015.

NolimitVPN can be presented as a "Firewall As A Service" for both personal and professional use. To give a description, this VPN service provides you an anonymous and secure Internet access to safely browse the web and completely hide your identity (which is your IP address on the Internet). By the way, you will also be able to bypass any kind of censorship to access restricted websites.
Based in Singapore, this team of cyber-security and cyber-defence experts has developed one of the most promising VPN service that you can find regarding anonymity and security on the Internet.

Key features
PPTP and L2TP over IPsec (128 or 256 bits encryption)
Antivirus firewall (spam, phishing, malwares, botnets, etc)
Anonymous DNS service
Anonymous proxy service
Servers in 8 countries
High speed bandwidth (from 10 to 100 mbps)
Server Locations
Netherlands
France
United Kingdom
Germany
Singapore
Japan
United States
Australia
Speed Test result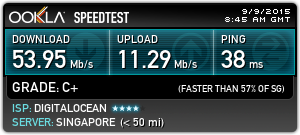 NolimitVPN does not support OpenVPN for now but it's probably a good thing. Indeed, there are some serious reasons to think that this protocol is not safe anymore because of all the bugs in the OpenSSL library. Like you certainly know, several security breaches have recently been revealed like "Heartbleed", "Shellshock", "Poodle", etc.
You may also try another service provider named as IPVANISH
Client Support
Currently the supported OS are
Windows 10
Windows 8.1|8
Windows Vista
Windows XP
Linux
With guides
Dedicated extensions for
Cheap subscriptions
Basic = 3.99 EUR / month or 29.99 EUR / year
VIP = 4.99 EUR / month or 39.99 EUR / year
The subscriptions are quite cheap and all of them include the features mentioned above. It's definitely the best value for money for a reliable VPN service such as this one.
Nowadays, you can notice how difficult it is to protect your privacy and how hard it is to stay safe online. It's time to pick a VPN service, even more if you use Wi-Fi. If you are not totally convinced by this article, NolimitVPN offers a free trial so you will be able to fully try it for free to make an opinion by yourself.