In today's modern world, people are using different payment methods to pay for services or products that they buy from online stores or physical merchants.
Not all merchants can accept payments with different methods. For that, they need a reliable payment gateway with which they can easily accept payments from customers right on their mobile phones.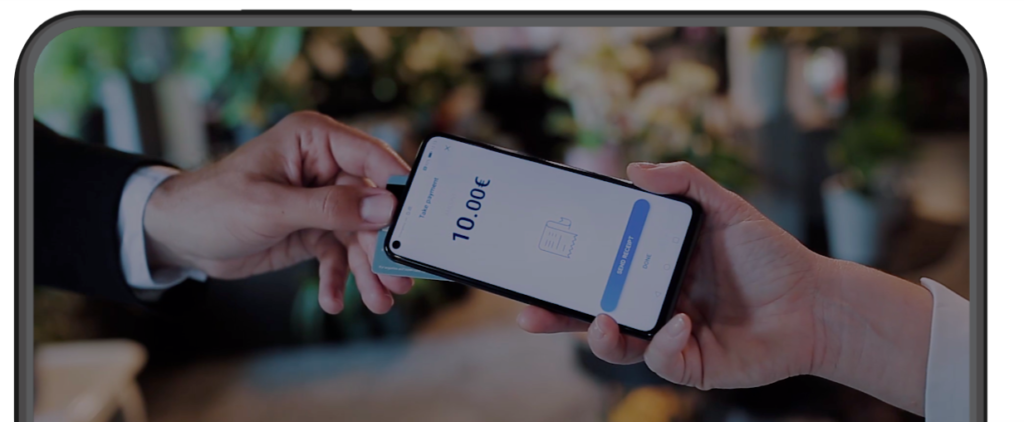 myPOS Glass is there to help merchants grow their business by providing seamless payment options to their customers. Let's take a look at some useful information about this app.
What is myPOS Glass?
myPOS is an advanced payment solution designed for merchants who can accept payments from their customers on their mobile phones through the myPOS Glass app.
myPOS offers one of its services through a mobile phone app. This app is designed for European merchants and provides an online point of sale solution. It is the fastest-growing POS solution for merchants to grow their businesses and build great relationships with their customers.
The myPOS Glass application allows a merchant to turn their mobile phones into a payment terminal. After launching the app, merchants can start accepting contactless payments from customers in real-time. The transaction is completed and processed in just a couple of seconds.
If you are curious to know more about this app, then check out its features below.
myPOS Glass Features



 

Mobile Compatibility
The myPOS Glass application is available for both Android and Huawei mobile users. No matter which Android device you are using, the app is available to turn your mobile into a hassle-free payment solution for your customers.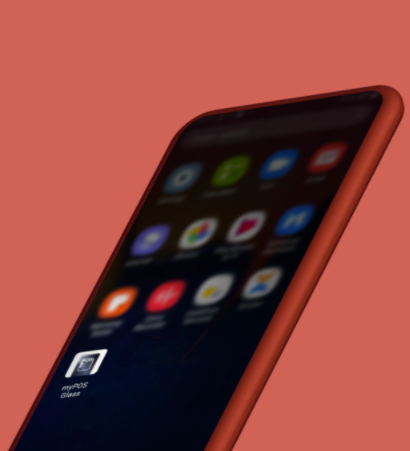 Wireless
Unlike physical POS devices, myPOS Glass doesn't require an external cable or any other physical connection. No dongles, additional hardware or tools are required. All it needs is a proper Internet connection to accept payments.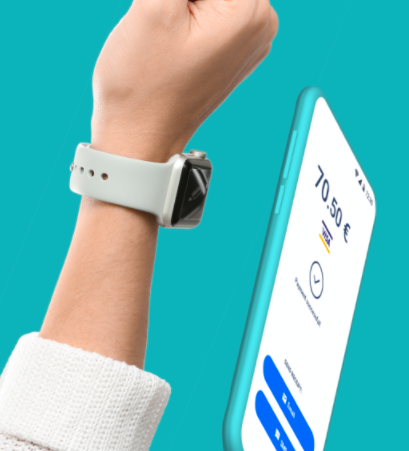 Free Merchant Account
The service allows merchants to open a free myPOS merchant account. The money received from customers will be credited to this account instantly. Merchants have full access to use these funds with a myPOS business card.



 

Multiple Payment Acceptance Options
The best thing about this service is it lets you accept payment from different services. Customers can pay into your myPOS merchant account with a debit or credit card, a mobile wallet and other options. The application is compatible with all types of EMV-based cards as well as digital wallets such as Google Pay, Apple Pay, Samsung Pay, etc.
Top-Notch Security
When it comes to making online transactions, the security of your account is a must. This app is designed to give you the best security that protects your application and its data from unauthorised access. It provides industry-standard security measures to safeguard  your transactions.
Advanced Features and Functions
The app gives you full features and functionalities just like a physical POS solution. It offers you even more functions to use this solution from anywhere on your mobile phone with no special requirements.
How does the myPOS Glass app work?
The myPOS Glass app works like any other application on your mobile phone. Its intuitive user interface makes it easier for you to run the app and receive payments from customers quickly.
Once your myPOS Glass merchant account is set up, you can start using the app to receive payments from customers. Receiving money is as simple as 1,2,3… go!
Step 1:
The first thing you need to do is enter the amount that you would like to receive from your customer.
Step 2:
After that, just tap the customer's card on the back of your mobile phone just like you do on the physical POS solutions with contactless cards. Instead of the front side, here you need to tap the card on the back side of your phone.
Step 3:
Once the transaction is processed, the funds will be deposited in your myPOS merchant account instantly.
Both the merchant and the customer will receive a message regarding the successful transaction made on the myPOS Glass application.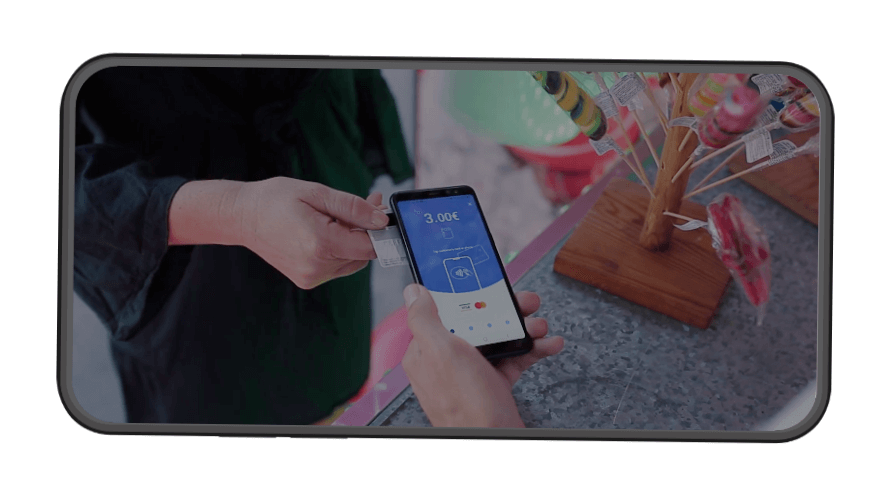 The app can be used by anyone who runs a business or is engaged with online transaction activities. It's an ideal app for freelancers, food trucks, delivery couriers, open markets, seasonal markets and all the other professionals.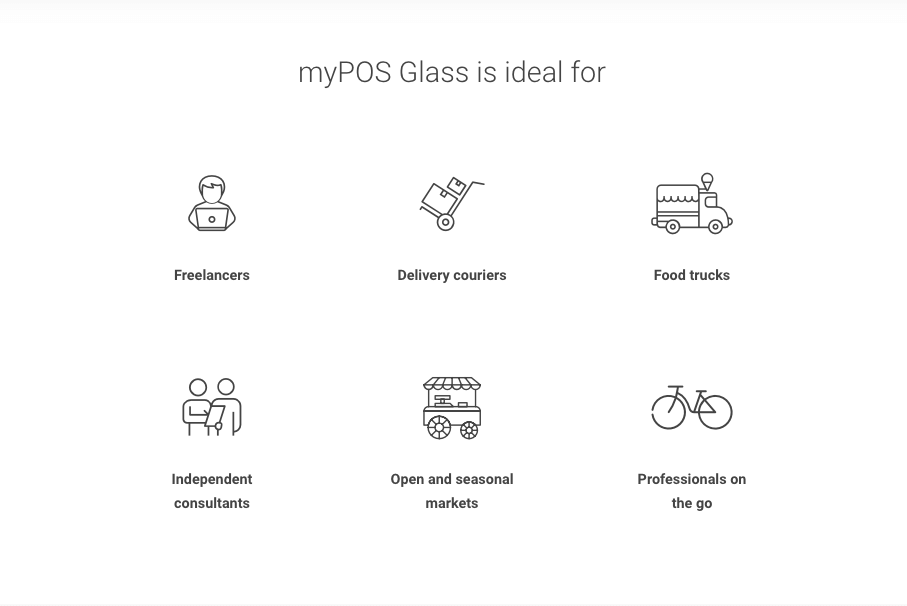 myPOS Glass App: Pricing
The myPOS Glass app comes in two different types of plans, which are available for merchants – Starter and Pro. You can choose a suitable plan according to your business' requirements.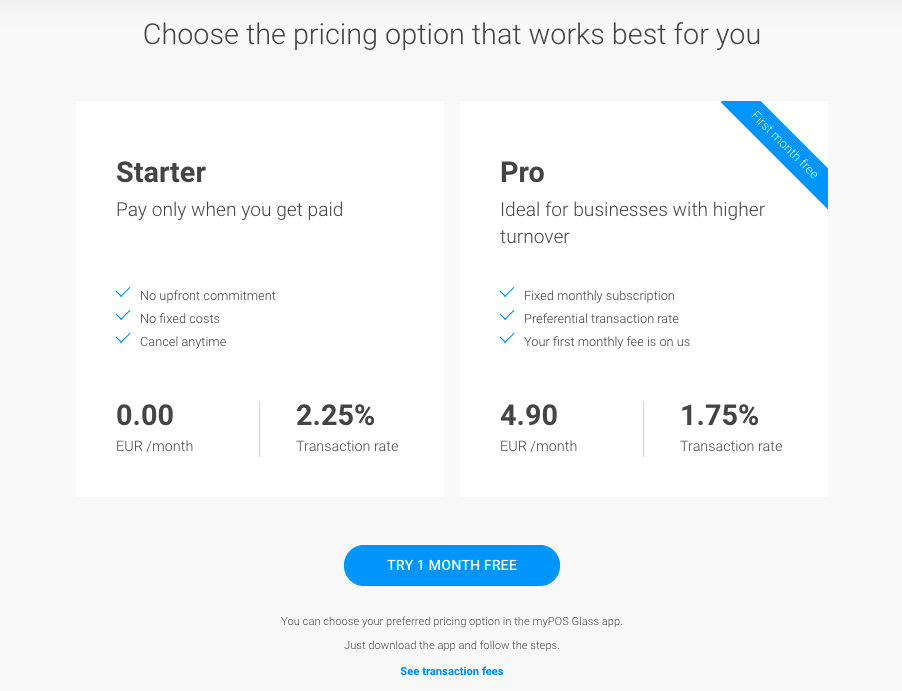 Conclusion:
myPOS Glass is undoubtedly the best payment solution for merchants in European markets. The fast and secure payment solution makes it easier for customers to pay for the products or services that they have received from merchants directly on their mobile phones.
The best thing about this mobile POS solution is it doesn't require any type of special tools, cable connections or hardware. It runs on a mobile phone with mobile data or wireless connectivity.
Choose the suitable pricing option, set up your myPOS merchant account and start receiving payments from your customers right away. The app is free-to-use with only a transaction rate being charged for in terms of the Starter plan. Why not give it a try now? It is compatible with all types of Android smartphones.