So after buying the domain name and hosting next you will be looking is a great design for your website or blog. If your website is using WordPress cms then you are at the right place as we have just found a great WordPress Magazine Theme with lots of feature. The best part is that just install the theme and demo data and your website will exactly look the same as the demo.
What's the name of the theme that we are talking about?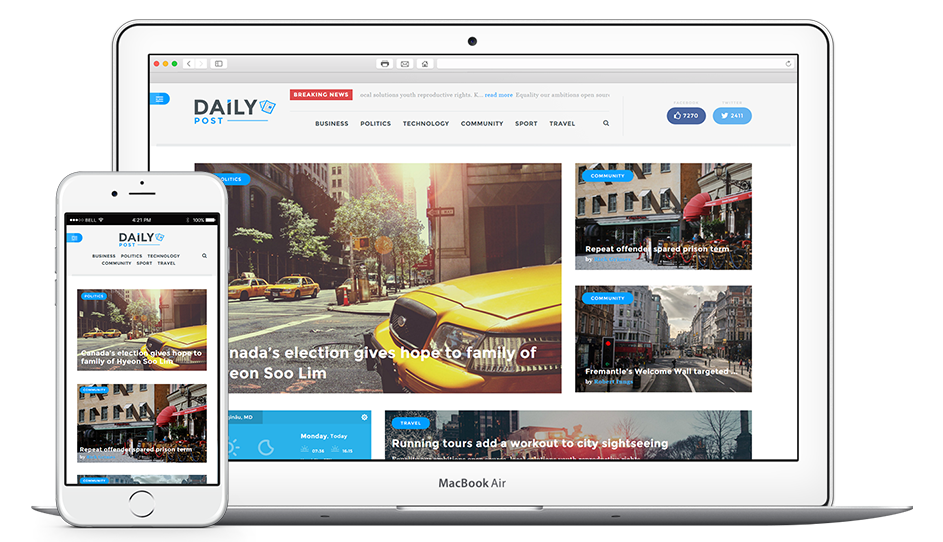 Daily Post magazine theme from one of the best wp developer named TeslaThemes is the one that you require to run your entire online magazine.
Daily Post Review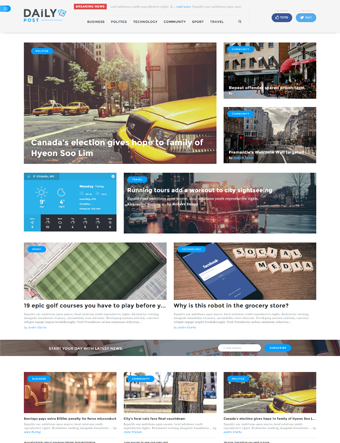 Every time we try to bring unique features of it and this time its no different
Speed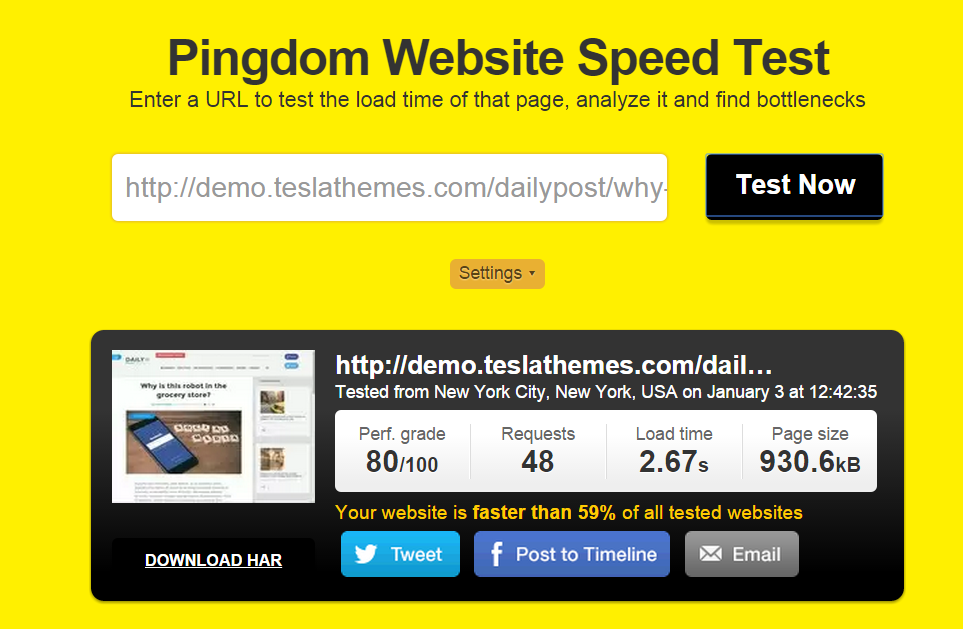 Since magazines comes with a lot of high resolution pictures you should really watch bandwidth alloted for you by hosting provider. To avoid unwanted reduction, Daily Post comes with lazy loading features means images are only shown when contents are viewed by the visitors or particular part of the page is in view part region. Another benefit of having this is that every page of your website load faster than you think and will help search engines to better position your domain in the results page (SERP).
Here are our test results from Pingdom
Feature articles
Some time you may may need to force visitors to read particular articles and for this, it helps you to stick any posts in the homepage with featured image as you may have seen in the demo.
Progression bar
Sleek and elegant sticky progression bar that tells you how much is remaining for you to read.
Homepage
If you are a blogger who needs to show articles from every category then this one is perfect choice for you.
Infinite scroll
Yes most of us have seen infinite scroll in the home page but infinite scroll in the single post page is something new, as soon as the user reaches the end of the post previous post is automatically loaded and because of this there is no pagination or link to next or previous posts.
Get published
With this feature you can let users publish their stories with pictures on your website with a specially designed page for it.
Responsive design
No matter what device you use to view your site everything will be properly ordered and shown to the visitors. Here is the result from our mobile phone (xperia)
Responsive pics
Free customization worth $30
Some of us may need little customization for the package and this is the only developer that gives you their service for free for the first hour.
Social media buttons
Cool animated icons are shown to the visitors when they click on the sharing icon located in the sticky progression bar, also sharing buttons are given under each of the post as well as in each post shown in the side bar.
Price
Cheaper than the ones from themeforest and also rolls out frequent update to keep up with the latest changes happening.
Other features
Navigation to top button on the sidebar
Print the post that you may find interesting for later reading or keeping it as an asset
Almost fixed like side bar
Unlimited colors
You can show the articles that you wish like the the breaking scroll as you see in the demo
Coupon code
Thinking of saving some bucks ? Then use this coupon or promo code " XMAS2015 " to get a discount of 40% on any product.
Final thought
We think Daily Post will make your designing job simpler and helps you to stand out in the crowd.