Long before Android and iPhone began to fight for the gaming market, mobile games were used and developed with might and main. But of course, new devices have radically changed the picture. Games have become more complex, prettier and more interesting, and their audience has matured significantly.
There are serious battles on the market, firms are luring the best developers, and the one who is always "on the wave" and anticipates trends wins. With modern game development company it's possible to create any game.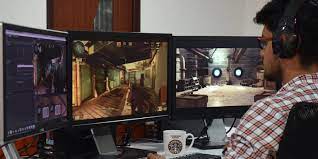 Game console in pocket
Smartphones are everywhere. It is most important. The cost goes down and the power and capabilities go up. Now you do not need to choose between a game console and a PC – both are in the smartphone, plus huge functionality. At the same time, the device is always with you and always online.
Smartphone gaming is truly mobile. You only need a few minutes to download the game, install it and start playing right there – anywhere and anytime.
Along with the power of phones, so too are the capabilities of developers. Now, smartphone users have access to games that used to "pull" the Xbox or PlayStation 2.
Mobile games – what makes them special?
Always connected
Smartphones by default imply constant Internet access at a profitable tariff plan, so the gadget is increasingly used for surfing, not talking.
And these are also new opportunities, especially for online games. So, while at the bus stop in Krasnodar, you can play a chess game with a live opponent from Beijing.
Another important option is the integration of games with social networks. You can immediately share your results and victories on Facebook, Twitter or all your networks at once.
Simple and cool
Even if you have never held a gaming joystick in your hands, with the advent of a smartphone in your life, you can discover the gaming world. Unlike seasoned gamers, such users just want to kill a few minutes in a queue or traffic jam for a simple casual game.
That is why most of the popular mobile games are simple, do not require much concentration, and a session in them lasts a few minutes. In order for the user to return to the game, they often implement an online scoring system, comparison with other players and, of course, a fascinating plot that can be very simple.
Mobile game development
You cannot do without a team of like-minded people who love their work, who will be focused on the result. Enjoyment of your own and your team's achievements is an important part of a successful project. They write about this in the blog on vokigames.com – the company's management is aimed at creating ideal conditions for productive activity, therefore, for more than one year, it has been creating an easy and comfortable atmosphere for its employees.
Game development provides not only a creative process, but also preliminary planning of all stages with clearly defined technical specifications.
Stages of mobile game development
The main points always include:
idea – a key moment, deciding what kind of game it will be, in which direction and genre, for which target audience it is created, etc.;
engagement – the user must be carried away by the game, and for this it is necessary to understand what will keep him or her in your application;
choice of platform – there are two main ones: Android and iOS, optimal – support for both OS;
design – think over the architecture of the game, attract a professional game designer who will fill the application with useful and exciting features;
monetization – the modern freemium format is the most convenient due to the possibility of free downloading, when the player has already been involved and there is an opportunity for in-game purchases;
support – after the release, the real work begins on the integration of updates, marketing and the community.

To sum up
Modern mobile devices make it possible to realize the most daring ideas in the development of mobile games. On the one hand, this expands the boundaries for activities, on the other, it complicates the process, since you have to invest a lot of effort and money to create a competitive product. As for professionals from https://whimsygames.co/services/mobile-development/, they are ready to carry out task of any level of difficulty. Aside from indie developers and focusing on large-scale projects, creating and releasing a game on a mobile device involves a lot of processes and a wide range of tools.