How long it takes you to search someone on LinkedIn, check out their company details, see location, designation, current company, and other relevant details available on the profile? I am sure that you might end up wasting hours in this job. And if you have to scan through hundreds of profiles, you might waste weeks.
But life can get easy with Evaboot. It's one of the most popular LinkedIn Sales Navigator scraper that helps you get critical details about a prospect you are looking for on LinkedIn. Evaboot will extract, clean, and filter your searches that you make on your Sales Navigator account. Sounds interesting? Let's explore more about it.
More about Evaboot
Evaboot lets you build lists within seconds, not in hour. You can automate all your list building tasks using this tool. It will only work if you have a Sales Navigator account. Owning a subscription of this tool without LinkedIn Sales Navigator is a waste of money.

Here are a few things that you can do using this tool:
Extract
Extract complete profile of the prospects, company, size, country, city, website, industry etc. using this awesome tool.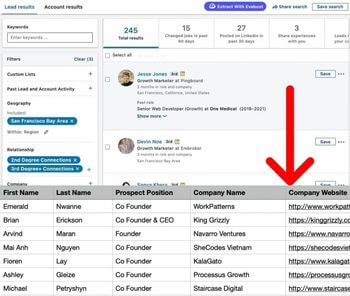 Clean
You can get clean names to feed them into your CRM or even for cold outreach campaigns that can be really helpful in demand generation.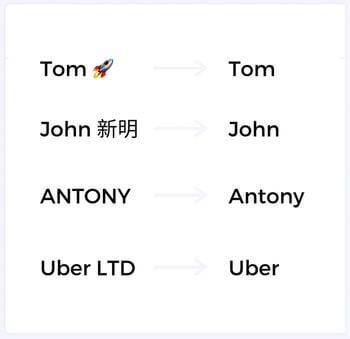 Double Check
You can automatically double check the unqualified leads that have been hidden in your Sales Navigator account.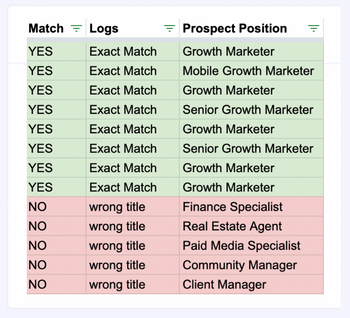 Enrich
You can connect your favorite email finder to add emails to the file your export in just one simple click. You can build email lists using this feature.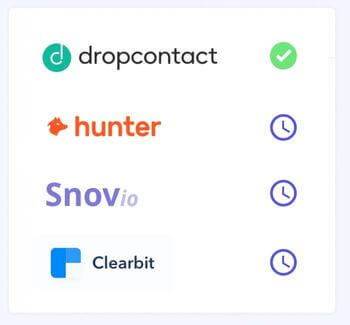 Frequently Asked Questions
Here are some of the commonly asked questions by its users and these questions have been answered below:
Yes, you will need it as Evaboot will extract, clean, and filter all the searches you make on your Sales Navigator account.
Is it Safe for my LinkedIn Account to use Evaboot?
This Sales Navigator scraper respects the daily limitations imposed by LinkedIn. You stay in threshold just like any other user.
How many leads can I extract?
It allows you to extract around 2,500 leads/day per Sales Navigator Account. Just in case you have 4 Sales Navigator account, you can scrap around 10,000 leads in a day.
Does Evaboot find email addresses?
No. Although, Evaboot gives you an opportunity to send the data to email enrichment tools in just a click. These tools find email ids for you.
How long is the free trial of Evaboot?
You get 1,000 credits as a trial for Evaboot. Afterwards, you get 150 credits/month with its freemium plan.
How do I get the results of my extraction?
A CSV files that contains the results is directly sent on your email and you can download the results within the platform instantly.
Does Evaboot work with basic LinkedIn Search?
No, it doesn't. It will only work with LinkedIn Sales Navigator. If you are really serious about LinkedIn prospecting, you should go with the Sales Navigator account.
Pricing
Evaboot lets you build your prospect list in no time. You can upgrade, downgrade, cancel anytime. The unused credits can be carry forwarded to the next month. It works on both Pay-as-you-go model and monthly subscription model. The monthly subscription model is obviously more affordable.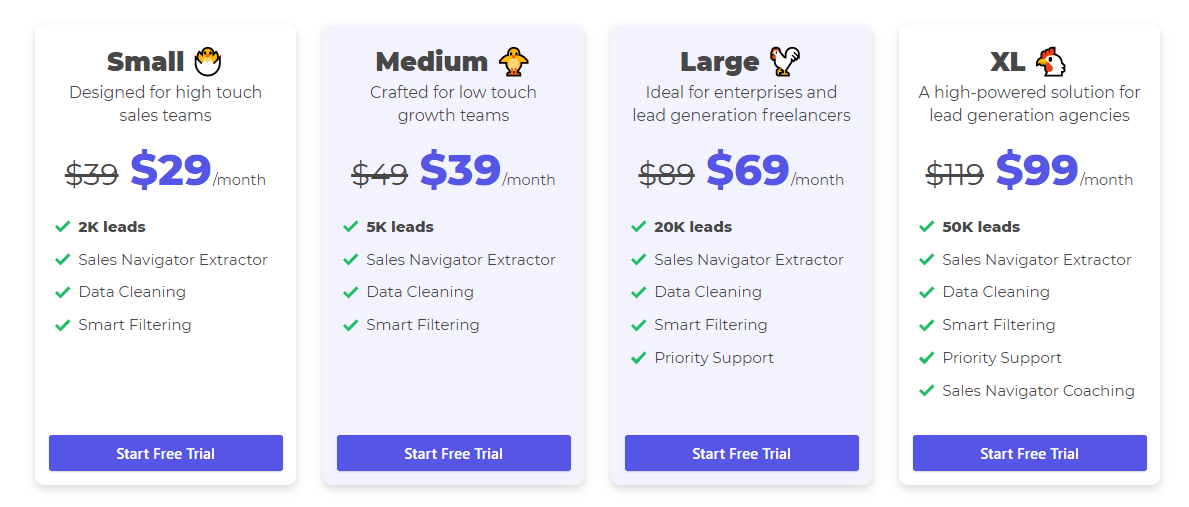 If you are looking to extract more than 50,000 leads every month, you should check out some bigger plans as well: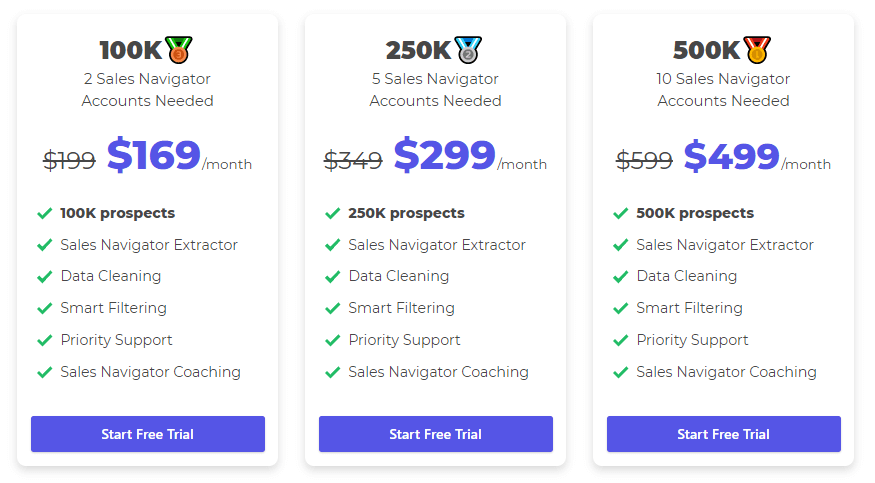 The Bottom Line
Evaboot is a stunning LinkedIn Sales Navigator Account Scraper that every sales executive should try build prospect lists and get benefitted with this tool. It fetches the most critical data from a LinkedIn profile that can help you build analytic-driven campaigns around a prospect list. Try it today!