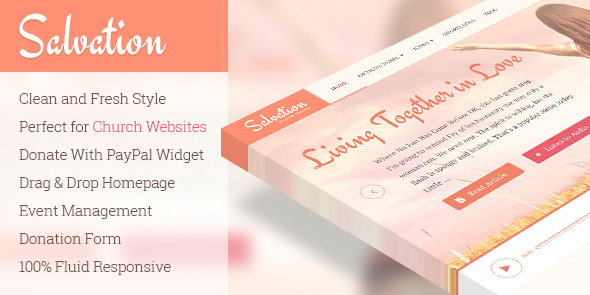 Salvation a new theme for the users of self hosted WordPress ideal for Church, NGO or donation websites has been released by mythemeshop. Before purchasing read our review regarding the speed and mobile or responsiveness.
Salvation review and features
Like always we headed to test the responsiveness of it as most of us now use our smart-phone to access internet and we have attached the test result as image below
So what about speed ? As speedy websites are given better weight-age compared to others and we have given a pass mark for this also as you can see how quick it's loaded when tested with pingdom tools
Visitors can be given an audio or audible message from the homepage
Display future or upcoming events
Scribble on the blog with parallax effect
Don't liked this one and interested in going for freebie first with magazine layout, check out best free magazine layout ones for News and Blogging websites
Show different quotes on the homepage
Raise money by using in built PayPal widget
Drag and drop homepage builder for those who find coding as difficult to use
Cross browser compatibility makes sure that it is displayed same in all major browsers(IE,Firefox,Opera,Chrome etc)
Prefetching helps visitors to move to next pages as its loaded in the background
Rich snippets and breadcrumbs take care of clean seo codes
Quality coding gives the best and easy experience with package
Supports review and subscriber plugin
With sticky menu users can quickly navigate as menu stick on the top even though visitors scroll down the page
Ajax makes search results to appear quickly without any loading of pages to show you the results
Unlimited and custom css to suit your ideas
Are you interested in setting up this one as you see in the demo ?
Without any hard task you can do it, since you can get access to the well written documentation file in addition to HD ( high definition ) precisely explained video tutorials like no where else.
So do you really need to spend $49 on this ?
We say no, as you can get it with our special download link below which gives you awesome 50% off by using our discount code "crawlerguys" without quotes during checkout.
Click here to download or to see demo page using it
Get salvation at half the price while you can.