Being self-employed is challenging but exciting. If you work on a freelance basis, you have a free hand. You can be more flexible in your schedule, have more control over what you do and be the decider without having to listen to others.
If you work for yourself, one of the best things that you can do to make things easier is to choose affordable software tools that can help you succeed out on your own. Do you need an easy-to-use and user-friendly solution to perform different tasks right in your browser? Then ONLYOFFICE Workspace Cloud comes in handy for you.
What is ONLYOFFICE Workspace Cloud?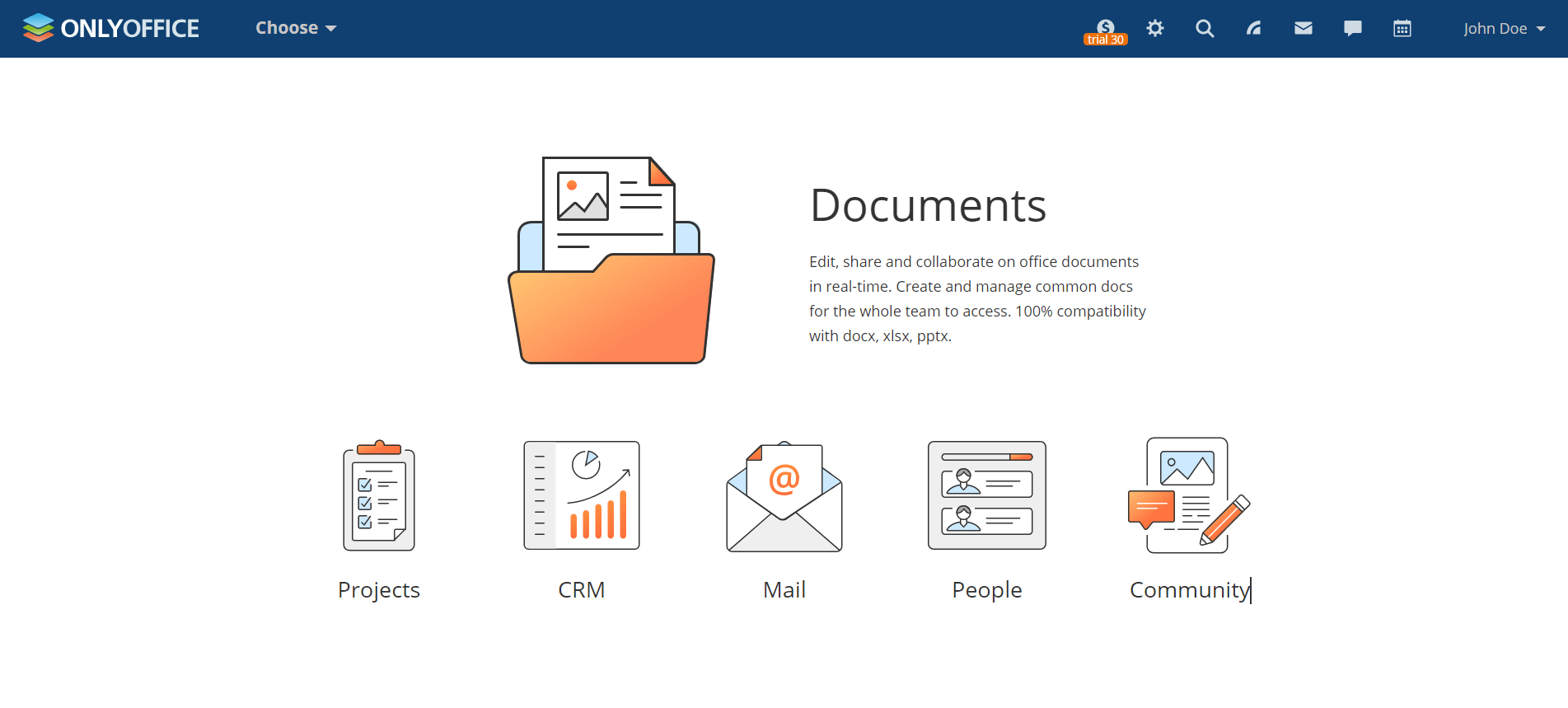 ONLYOFFICE Workspace Cloud is an open-source SaaS solution that allows you to create a personal cloud office with a set of productivity tools for efficient work. The best thing about this software is that small teams (up to 5 users) and individuals can use it free of charge. Let's have a look at what you can do with ONLYOFFICE Workspace Cloud and make the most of it.
1. Registration and initial setup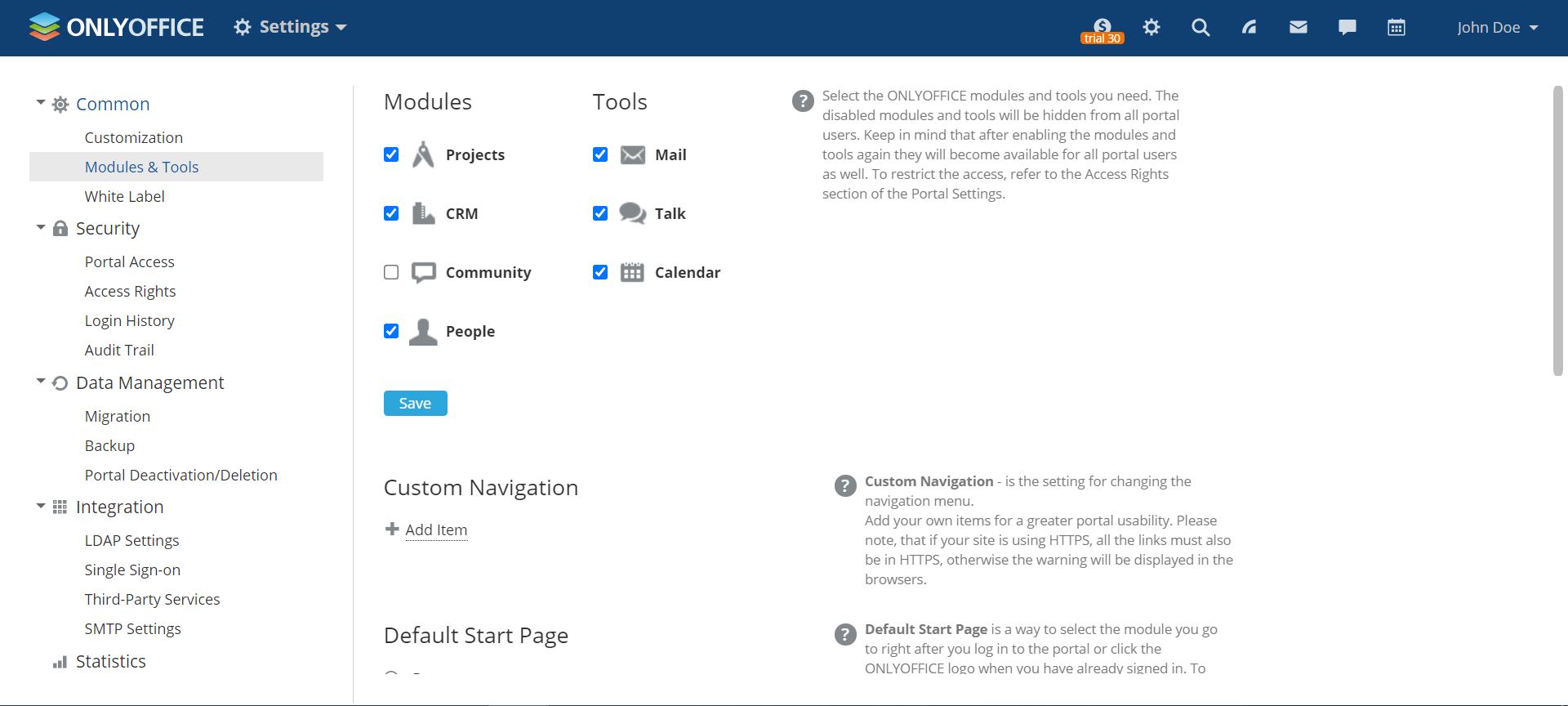 Getting started is as easy as a piece of cake. You just need to fill out the registration form and you will get access to your newly created cloud portal.
Here is our tip: when the 30-day trial period expires, you will be able to switch to the free Startup tariff plan, which offers 2 GB of disc storage and allows you to create up to 5 users.
First of all, go to the portal settings to decide which tools and modules you really need and disable those that are not of practical value:
Projects, a project and task management tool;
CRM, a system for managing interactions with customers;
People, a module for managing portal users;
Mail, an email aggregator;
Talk, an instant messaging app;
Calendar, a scheduling tool;
Community, a corporate social network with blogs, forums, news boards, etc.
For better security, activate two-factor authentication. Also, it might be a good idea to customize the solution according to your needs. Change the default color theme if you want your cloud office to look brighter.
2. Organize your storage space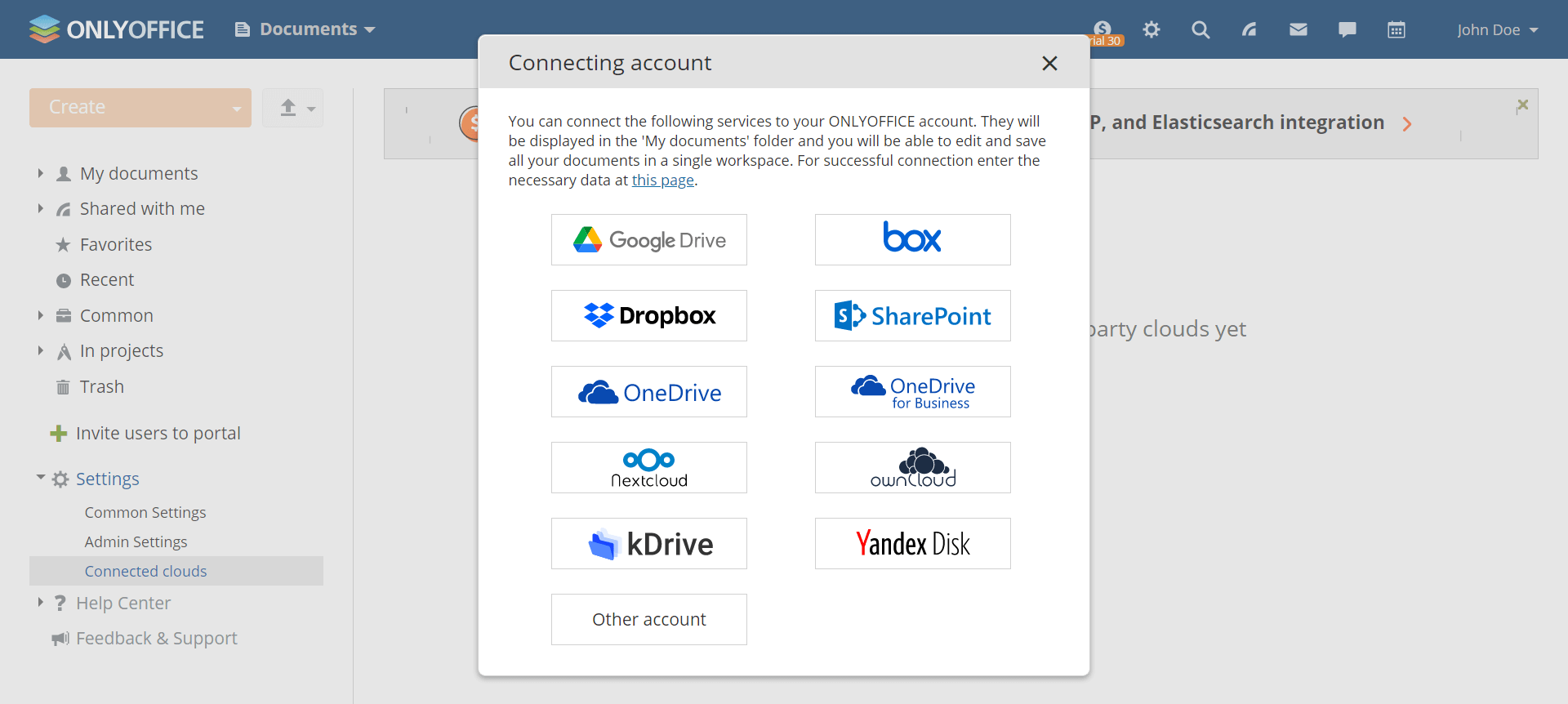 Organize a single storage environment for all your files and documents. You can upload them directly or connect third-party services if you use any:
Google Drive;
Box;
Dropbox;
OneDrive;
kDrive;
Nextcloud;
ownCloud;
SharePoint.
Once any of these services is connected, the corresponding folder will appear in the Documents module and you will be able to access and edit all your files in one place. Don't worry about having different versions of files — everything synchronizes automatically. If your customers ask you to sign documents electronically, just connect DocuSign and leave a digital signature wherever you need it.
This module is not for documents only. You can also keep there audio and video files as well as images. The platform is compatible with plenty of various formats, so you can open them directly without installing any add-ons or extensions.
3. Edit and share your documents online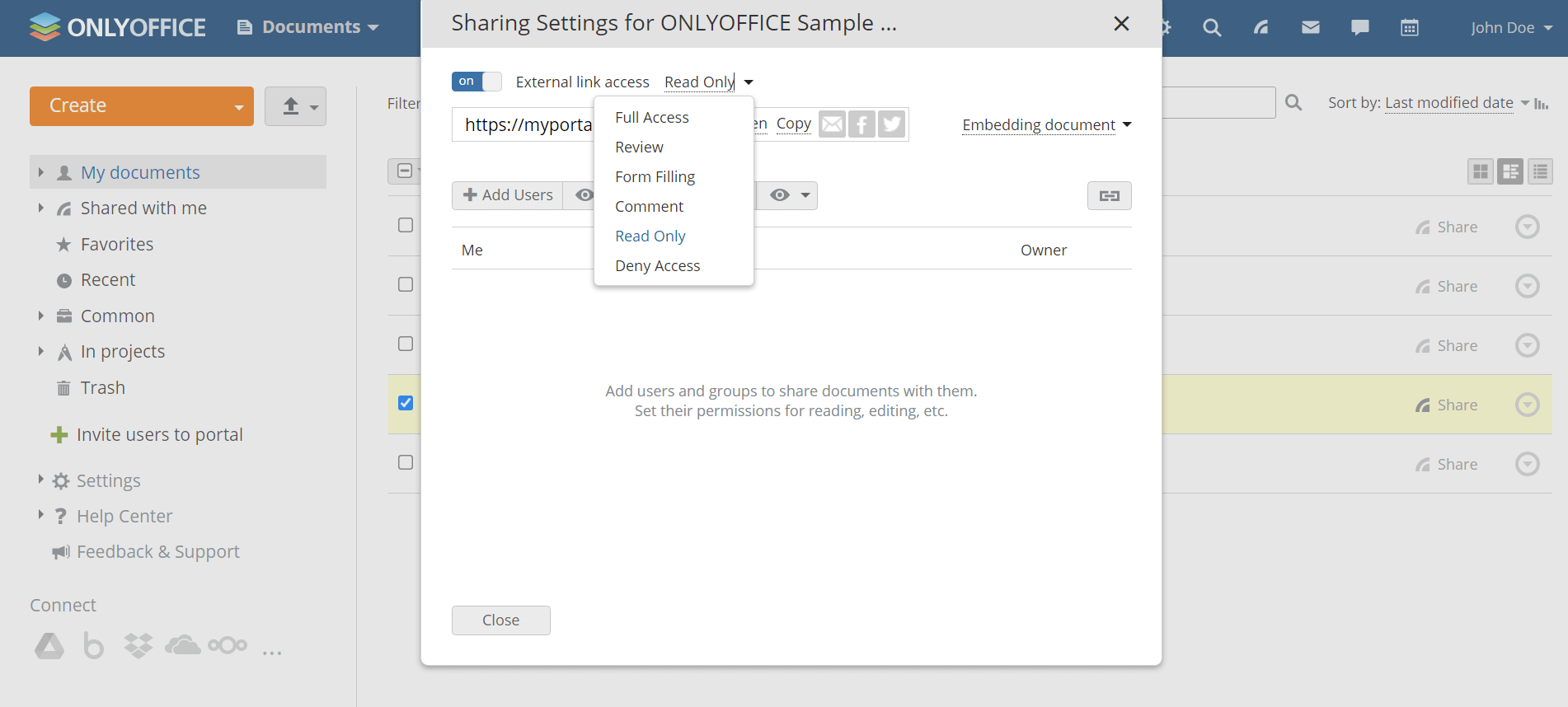 Do your customers send you Word, Excel and PowerPoint files? There is no reason to worry. You don't need to have the Microsoft Office suite because ONLYOFFICE Workspace Cloud comes with online editors for text documents, spreadsheets and presentations. They are fully compatible with the Microsoft Office formats (DOCX, XLSX and PPTX) and have all the required features to edit documents of any kind. Insert YouTube videos, translate text with Google Translator, edit images and more using third-party plugins.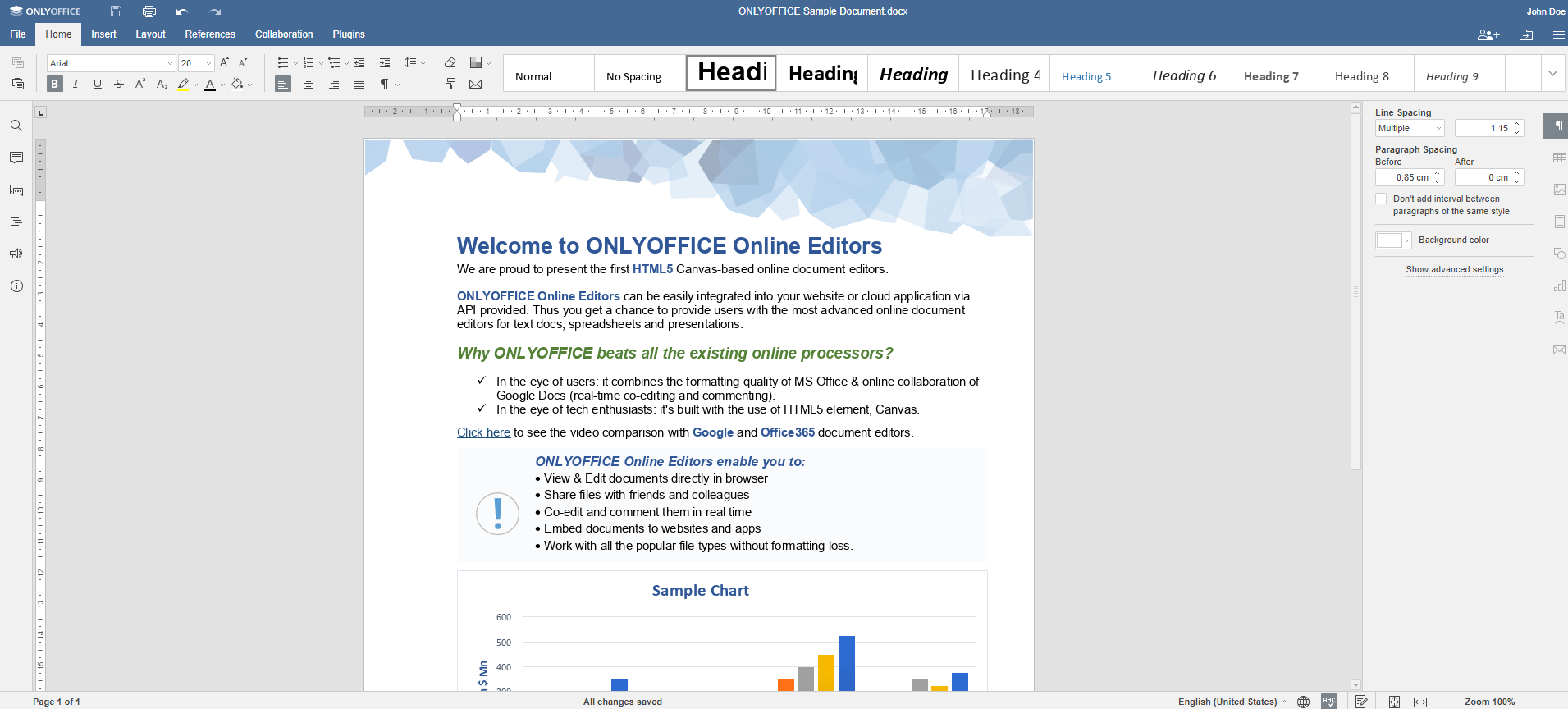 If you need to share and collaborate on your documents with clients in real time, you can do it in two ways. Firstly, you can share the required file via an external link and send the link to your customer. They will be able to open the document in their browser even if they don't have ONLYOFFICE. This is very convenient because you can collaborate with others in real time, like in Google Docs.
Secondly, you can invite your customer to your portal as a user. Don't forget to choose the appropriate permission when sharing something. You can choose from full access, reviewing, commenting, reading only, form filling and custom filter for spreadsheets. Thus, you can make sure that your documents are safe from unauthorized access.
4. Manage the relationships of your customers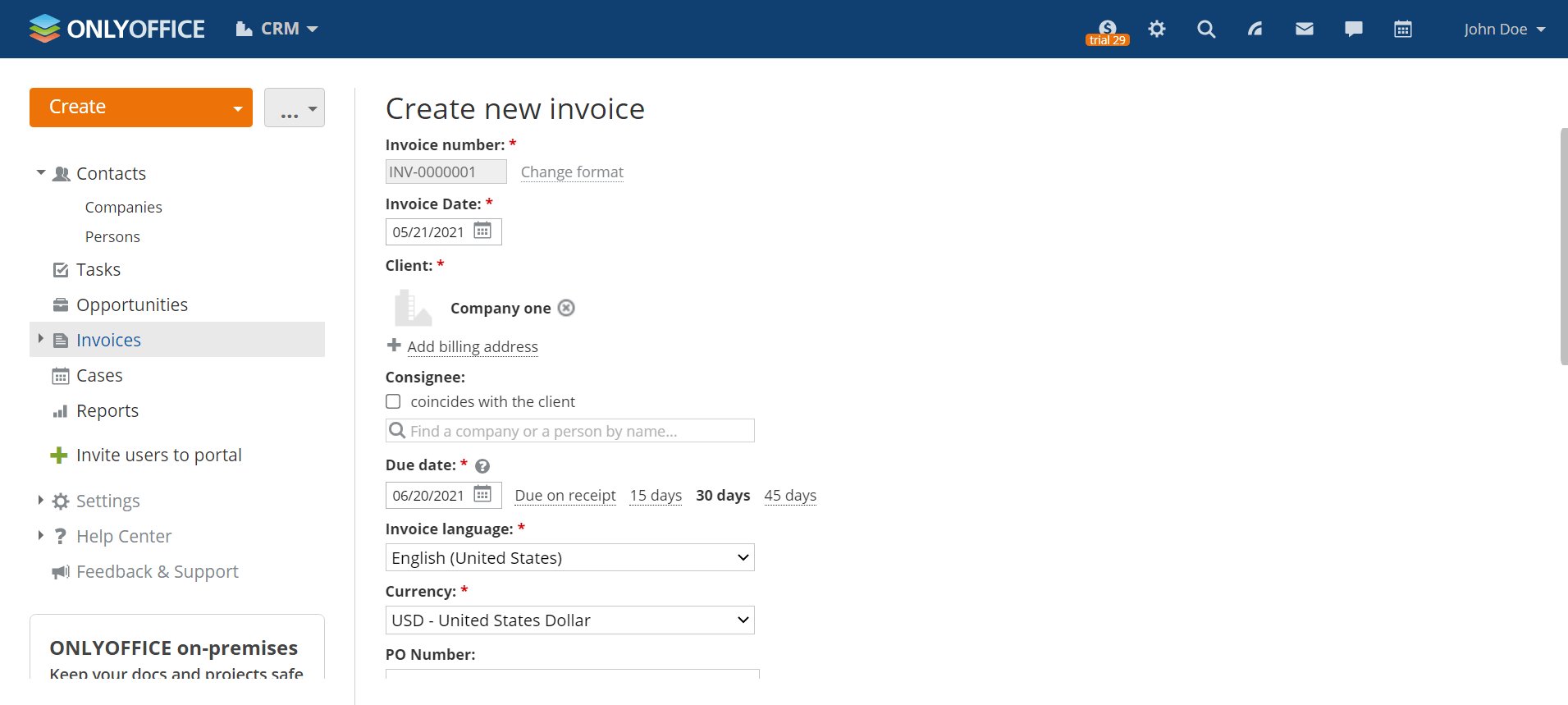 As a freelancer, you probably deal with a lot of customers. Keeping their names and contact details in mind is extremely difficult. To avoid information overload, you can open the CRM module and build a customer database, with all the required data gathered in one place. You can create profiles for all the companies and individuals you are working with.
This tool also allows you to create payment documents for your clients — you can create a PDF invoice, print or send it by email with a couple of clicks.
Here is our bonus tip: embed a special web-to-lead form in your website or blog, and all new leads will be automatically added to your CRM database.
5. Keep track of your projects and tasks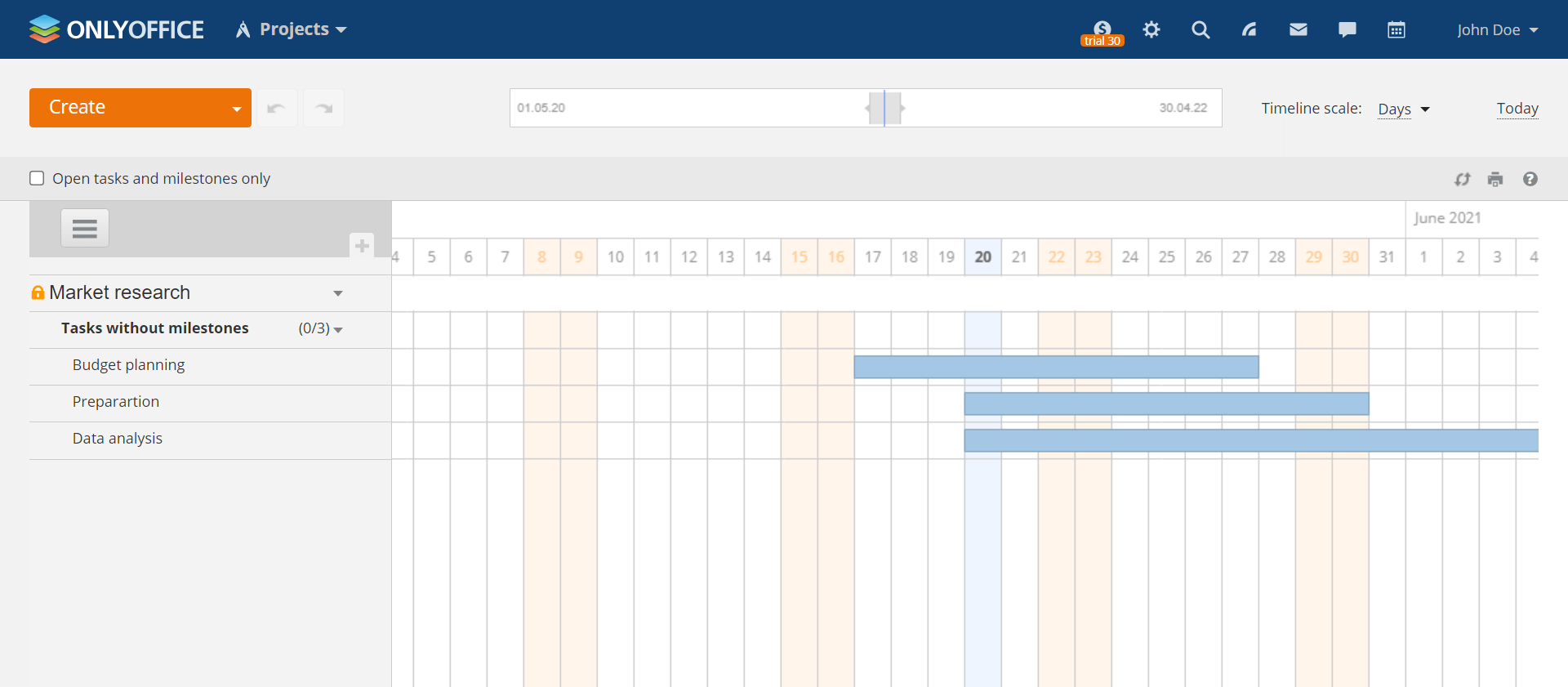 With the Projects module, there is an opportunity to create a separate project for each deal and connect them. You can create various projects (for example, one for each client) and add as many related tasks as you need. Subtasks and milestones help you monitor the project completion and prioritize your objectives. You can also use the Gantt chart to analyze the project progress and task dependencies. If something falls behind, postpone the deadlines.
6. Keep and manage all your email accounts in one place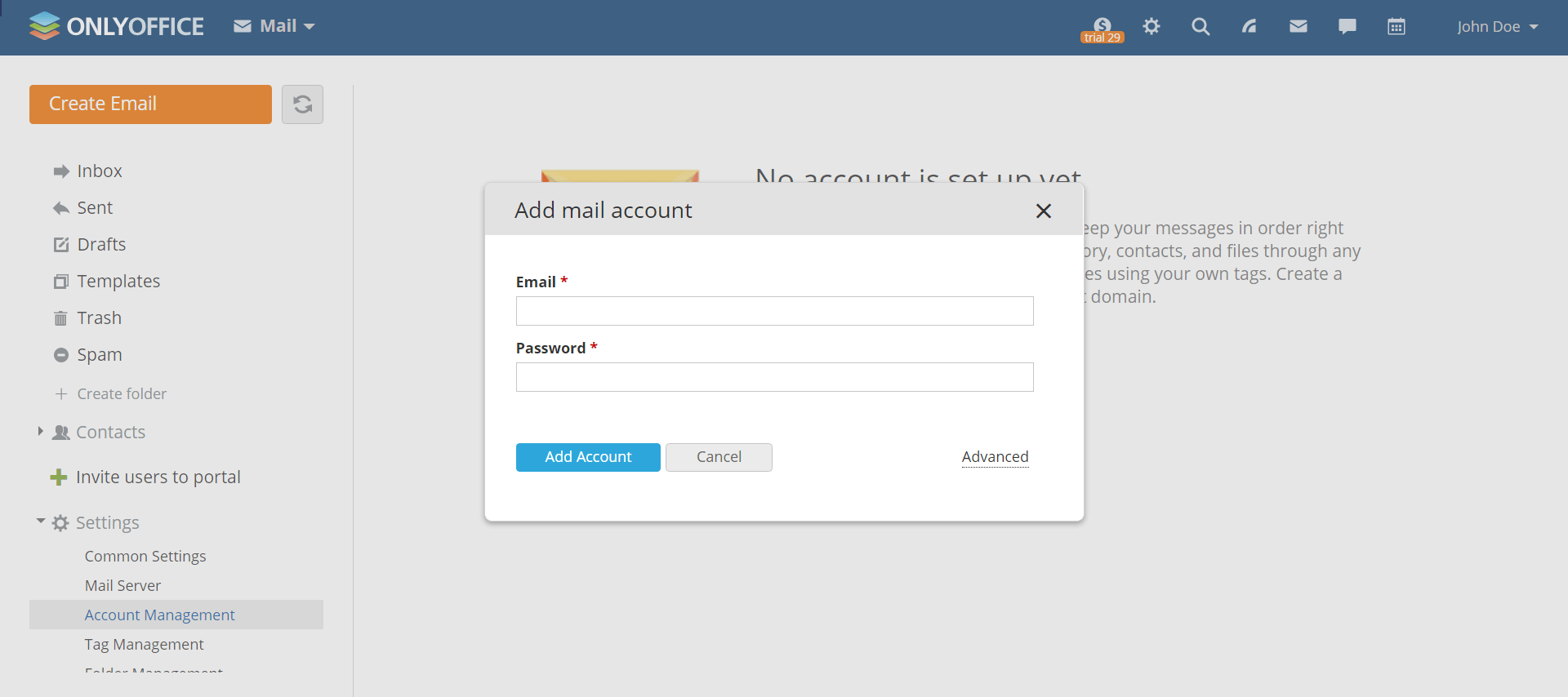 Do your customers prefer keeping in touch with you by email? No problem at all! ONLYOFFICE Workspace Cloud lets you add your email accounts and quickly switch between them. Besides, this module allows you to manage all your incoming and outgoing emails with ease by creating folders and subfolders, applying filters with certain criteria, using tags and templates. Do whatever you need to stay in touch with your customers.
Every minute matters, so you can save some time by attaching email threads or separate messages to your customer contacts directly from mails. Moreover, when writing an email, you can use documents stored on your portal without actually opening the Documents module.
7. Plan your work beforehand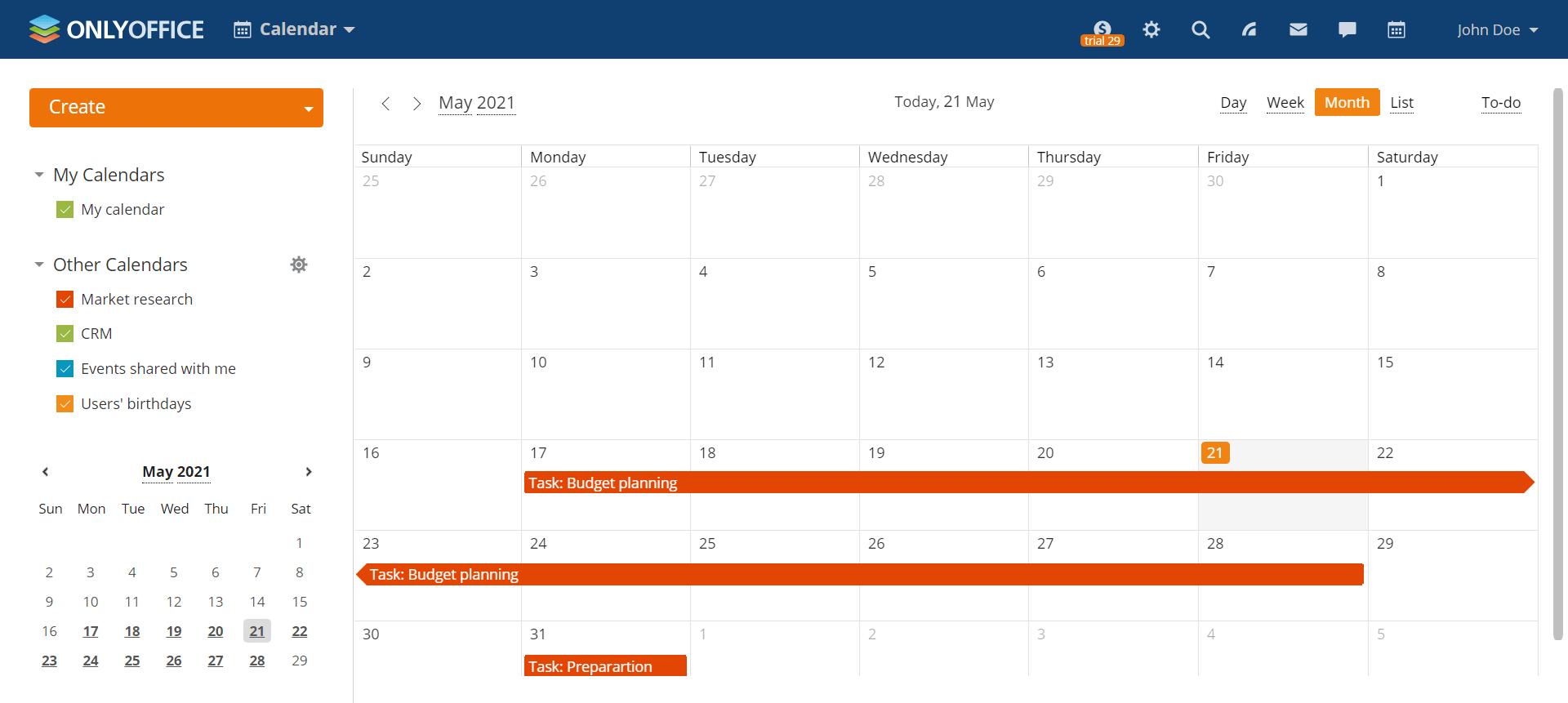 ONLYOFFICE Workspace Cloud allows you to keep track of your working schedule and add new events to your personal calendar. You can also add all event invitations directly from your emails. This tool helps you stay organized by creating different types of events (all-day, multi-day and recurring), making to-do lists and receiving reminders.
If you already use third-party calendaring tools, you can integrate them with your cloud office. Add an iCal feed from Apple or your calendars from Yahoo! or Google using the CalDAV protocol. Thus, you can keep all events in one place, which is pretty convenient.
Bottom Line
ONLYOFFICE Workspace cloud is a savior for freelancers who would like to have a free cloud office with productivity tools. This solution makes things easier because it allows you to create a secure working environment, with all the required features for effective work at hand. It's available for free, although you can always switch to a paid version to have access to the advanced functionality. Let us know what do you think about ONLYOFFICE Workspace by leaving a comment below.