Vivaldi a new web browser with wide range of features packed in a single roof lands for systems running on Windows, Mac and Linux as technical preview download.
Vivaldi browser hands on review
Unlike others this one gives preferences to the color of the websites or favicon and shows it on the tab when its active as shown below
If you are browsing pages related to say technology you can stack the tabs one above another which helps you to keep your window clean. By hovering the mouse over that single tab you can also see preview of opened ones.
Saving notes with screen-shot of that page as you surf is one other unique feature of newbie in the town and its like one shown below
By default search engine is set as Google but you can add the ones ( from the drop down list containing Amazon, Wikipedia, DuckDuckGo, eBay, Startpage, WolframpAlpha ) that you wish and set it as a default one.
Even though it's created by former opera CEO, it doesn't run on Presto engine rather its powered by Blink based on Chromium like the new Opera for desktop. In our experience, presto was pretty bad in viewing website on slow mobile network like 2G.
Speed dial with background images where you can add your favorite websites for quick access.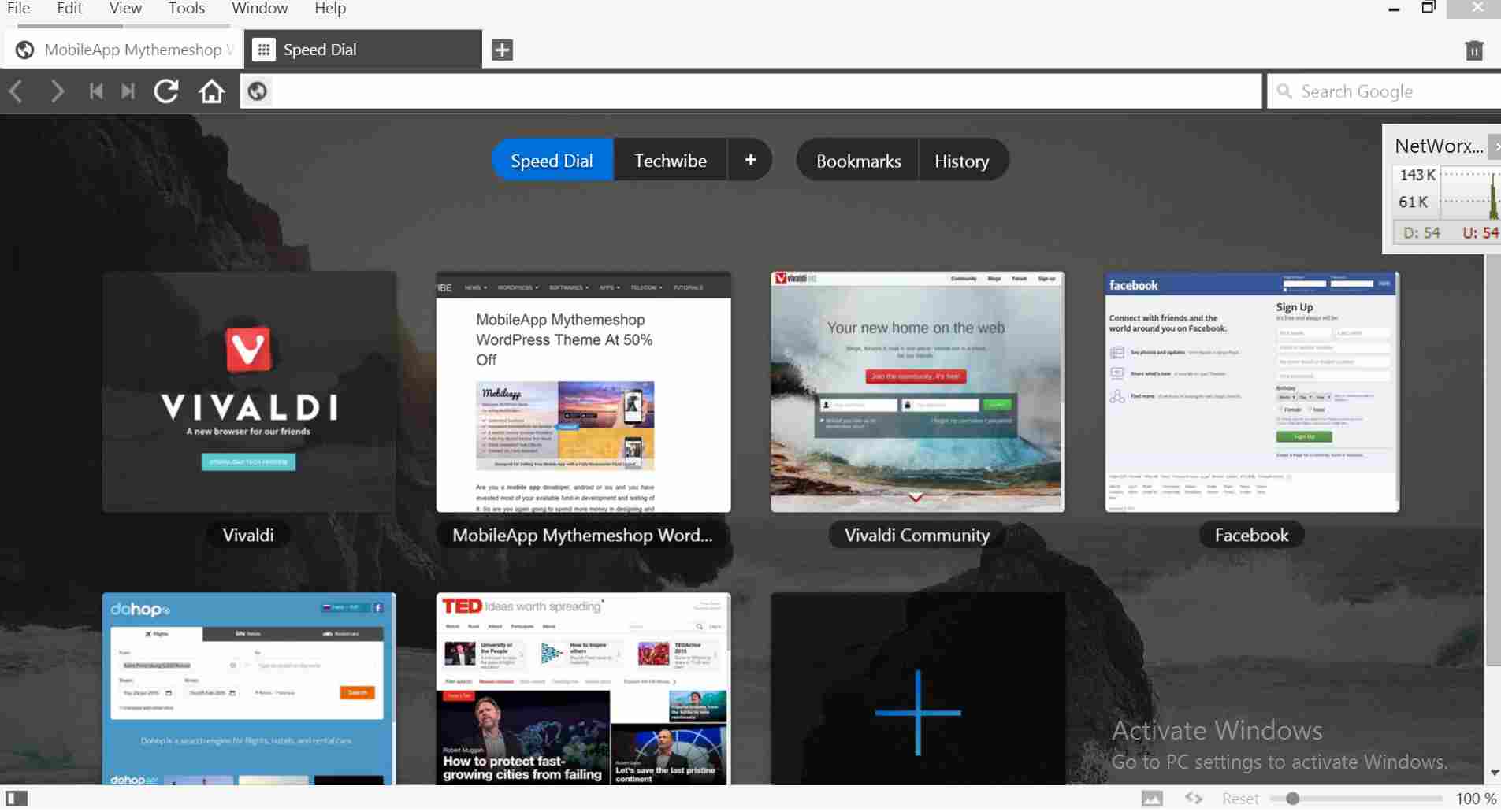 Keyboard shortcuts called "Quick Commands" like Ctrl + Q helps you to go through bookmarks, history and list goes, without having a mouse click.
Content blocker and zoom slider with which you can quickly turn on or off image of any web-page and the font size can also be increased.
Full screen mode for distraction free reading and can be activated from Windows>Toggle full-screen. For deactivating it just press function key F11.
A progression bar within the address bar that you may not find in the new ones out there.
Fast forward and rewind for web pages – A pretty unique feature with which the browser automatically determines most likely next page and if you want to go the root domain or the homepage just hit the the rewind button.
Auto update is now available as a test for the systems running on Windows 32-bit
Private browsing is now available by going to File → New Private Window
Something we didn't like
Like turbo or off road mode which enables anyone to save data, Vivaldi doesn't seem to have one as we tested this website in both the browsers.
You can't move tab opened in one window to another.
When minimized this browser always showed its name in taskbar rather than showing up the name of that open page.
Operation was not smooth on our test
What's more?
There is a dedicated community website where you can share and store photos like a cloud space, start a blog, chat with friends and an ad free mails.
Note : Opera had it by the name " My Opera " and was closed on March 3, 2014.
Features that you can expect in future from the developer
Mobile browser
Cross sync
Extensions to simplify various tasks
Other info
Vivaldi is started by former CEO and co-founder of Opera, Jon von Tetzchner with his team of 25 working from different countries and most of them are ex-opera.
"we feel that there is a need for a more powerful browser for people who want more from their browser" and that "most browsers in the market today are offering similar, non differentiated [and are] relatively simple." Answer by Tatsuki on thenextweb for question on why there is a need for new browser ?
Beta builds features
Private window for keeping your privacy from those trackers
Smooth scrolling of pages
Now you can see how much page have loaded so far
Stable build is now available for all OS
Current stable build version : 1.1.453.47
Whats new in this stable build ?
Better tab handling
Tab hibernation is now improved
Speed dials can imported from older version of Opera
Download from the links below
Linux deb (Ubuntu/Debian)

Linux rpm (Fedora)
Beta offline installer
Current version : 1.0.344.37
Linux deb (Ubuntu/Debian)

Linux rpm (Fedora)
Current version : 4.1.0.219.50
Channel : technical preview or snapshots
UPDATES
Stable version
You can schedule the theme that is dark theme for night and light one for day.
Middle-click on Trash icon restore recently closed tab
Technical preview
Customization for start up page
UI zoom and light,dark combination
Better speed dial
Keyboard cheet sheet
Gestures can be used from touch-pads of laptops or notebooks
Tabs can be switched with mouse wheel
Improved performance
CTRL+ENTER prefills the url with www and .com
Tab-history butoon is now added with forward and back capability
Now you can reopen closed windows
Fixes
Settings windows
Shortcuts bugs on forms and iframes
Black problem in Linux

Snapshots
Redesigned progress indicator
Private windows is now added
Panel improvements
Improved startups
Tile tab stack one of the new features is also implemented in this build
You can now import data from other major browsers to this one
Opening new tab is now simple and easy as it can be done with mouse gesture
On mouse roll over you can see total download tasks that is progressing
64 bit version for the high end laptops and desktops running 64 bit version of Windows OS
More language support
Support for 32 bit Linux version
12 new language addition
Now you can quickly reopen the last closed tab by CTRL+Z and CTRL+SHIFT+T
So how to update it ?
You have to manually download the exe file links towards the article end and install it, its because they don't have auto update feature like other browsers.
Installation
If you want to install it in specific drive and for other language click on advanced button and select the desired language, currently available ones
Czech
German
English
French
Japanese
Norwegian
Russian
Turkish
Offline installer links
SnapShot version
Stable version ( links below are no more updates as the tech previews are no more available and is replaced with beta builds)

We will update the links when stable version is out.
Final verdict
Vivaldi seems to more user oriented like they say in their website but misses the data compression feature.